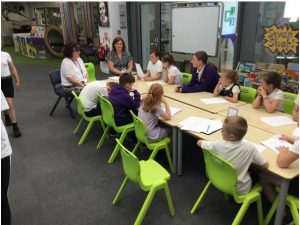 A few months ago the School Council began to think about ways we could improve Hebburn Lakes Primary School. They asked their friends in their class to give some ideas.
Once we had collated this we sat together and decided which of the ideas could be possible and not be too costly!
Once we had our top 5 they then went back to their classes and asked their friends to tell them why these ideas were so important.
We collated the information and then had a meeting with Mrs Moody and Mrs Redfurn to discuss our ideas and also the reasons why we would like these ideas introduced to school.
Mrs Moody and Mrs Redfurn were very impressed with how the School Council discussed the ideas and how passionate they were!
We have agreed to meet in 2 weeks time to hear back from Mrs Moody and Mrs Redfurn so watch this space!
Attached are the ideas and some of the very valid reasons as to why they would like to introduce these improvements.
I was very impressed with our School Council, they have really shone in their mature manner and also shown real passion! Well done!
Golden time every week and the same amount of time every week
Provides a break from work (healthy mind-sets)

Y6 has just finished SATS, so we think this is a well-deserved reward!

Some classes are given unequal opportunities for golden time than others- it becomes unfair for some. 

Relax our minds = a positive mental wellbeing.

Encourages attendance- Most children may be motivated to come in on a Friday, if they know they will be a reward. 

We deserve fun, missed out on so much!

Encourages us to be social in class

Long busy week, something to look forward to and have fun together

Incentive to work hard 
Some bird feeders around the school
Links to nature projects and animals.

Links to science and PSHE 

During winter, birds find it tricky to find food. 

Attracting birds to school allows us to view them in their natural habitats. 

Building nests and giving birds food, helps to protect them from dangerous predators too!

Learn/birdwatching club!
'Meeting animals' to be added to our fun day
Animals can reduce stress and promote a healthy mind-set

Can learn how to take care of an animal, which links to taking care of ourselves.

Promotes a sense of responsibility, empathy and is rewarding. 

Learn about animals

Help children who are frightened   
More clubs (one suggestion was an art club)
Clubs keep us active (especially sporty ones!) 

Promotes our socialisation with children who share interests to us

Clubs get us to try new things which we might not have thought we'd do!

Clubs can give children a place to go after school, rather than lingering in groups and potentially getting into trouble in some way.

Make new friends 

Help us express ourselves 

Art 

Football

Singing

rugby

Cooking

Maths

Computer club 
Create a school chant  

Can use for our teams (football netball)

Our identity 

Sing in our assemblies and be part of a big family